Welcome to NBA.com/DLeague/Stats
By Brian Martin
The NBA D-League is all about player development and talent evaluation. With today's launch of NBA.com/DLeague/Stats, fans and experts alike can take player evaluation to a whole new level.
Following the launch of NBA.com/Stats in February of 2013, the NBA's official minor league now gets the same major league level of advanced player and team statistics.
So how does this all work? The stats database is built on top of the official NBA D-League play-by-play data that is tracked courtside during every game -- this includes every point, rebound, assist, steal, block, turnover, missed shot, foul and substitution, the point in the game when each one these events occurred and which players were on the floor when it happened.
With that data, we not only get the points, rebounds, assists, field goal percentage and other statistics that have been around for decades, but we also open up the world of advanced metrics like offensive and defensive rating, assist and rebound percentage and player usage rate as well as lineup data and on-court/off-court summaries. [To learn more about the new statistical categories available, please visit the glossary page.]
Let's break this down by taking a closer look at Malcolm Thomas of the Los Angeles D-Fenders, the current leader in the Prospect Watch and a prime candidate for a GATORADE Call-Up.
As we browse the homepage, we see Thomas at the top of the Leaders section with the default Points tab selected. You have the option to view the data as a grid if you just want to see the raw numbers, or as a chart if you prefer to visualize how the leaders compare to each other in the selected categories like we have below.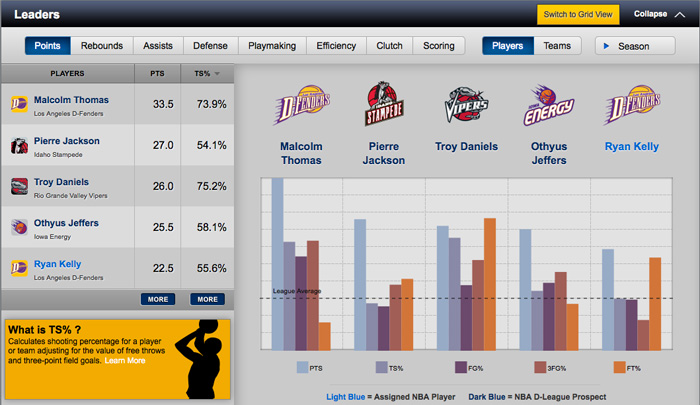 There is a League Average line that cuts across the chart, which is calibrated so that it represents the league-wide average for each of the categories displayed, so you can see how much better or worse these players are compared to each other and the average NBA D-League player at the same time.
You'll also notice that Ryan Kelly's name is in a lighter shade of blue than the others on the leaderboard. That is done to indicate that he is an NBA player currently on assignment in the NBA D-League. This color treatment is used throughout the site to help you find NBA players currently on assignment in the D-League more easily.
With the Points tab being selected, that determines the statistical categories that are presented in the chart -- in this case Points, True Shooting Percentage, Field Goal Percentage, 3-Point Percentage and Free Throw Percentage. If you hover over any bar on the chart, the stat for that player and the league average will display.
You also have the option to change the tab to show league leaders in every aspect of the game -- Rebounds, Assists, Playmaking, Efficiency, Clutch and Scoring.
Clicking through the tabs we see Thomas currently leads the league in points (33.5 per game), rebounds (15.5 per game), efficiency (23.4% PIE) and scoring (35.33 points per 100 possessions). Just looking at those numbers is enough to make you want to take a closer look at Thomas and see if he is a fit for a GATORADE Call-Up.
But we can look even deeper to get a better understanding of how the 6-9 forward from San Diego State impacts the game for the D-Fenders.
A look at the D-Fenders' on-court/off-court summary really illustrates how important Thomas is to the D-Fenders. His on-court offensive rating of 102.3 means the D-Fenders score 102.3 points per 100 possessions with Thomas on the floor. His off-court offensive rating is a team-low 85.0, which means the D-Fenders only score 85 points per 100 possessions while Thomas is on the bench. A differential of 17.3 points per 100 possessions.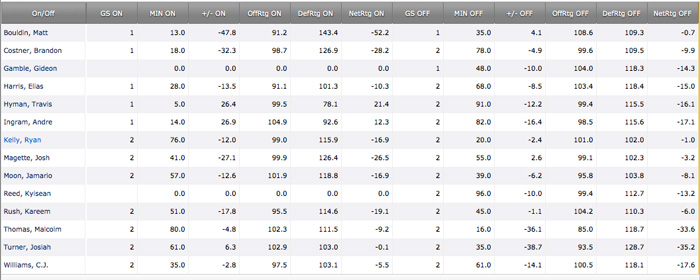 We see a similar trend on the defensive end, as the D-Fenders are a better (although still not very good) defensive team when Thomas is on the floor (111.5) compared to on the bench (118.7).
Let's take a closer look at what Thomas is doing on the floor by looking at the advanced metrics on his player stats page.

Here are a few numbers that stand out:
19.4 REB%: Thomas is grabbing nearly 20 percent of all rebounds while he is on the court -- including 11.1 percent of available offensive rebounds and 27.8 percent of defensive rebounds.
10.9 AST%: Despite being the leading scorer of not only the D-Fenders, but the league overall, Thomas is still making plays for his teammates as he is assisting on 10.9 percent of his teammates field goals.
23.9 USG%: Thomas is using 23.9 percent of the D-Fenders offensive possessions while he is on the court
73.0 eFG%: Effective field goal percent accounts for the added value of 3-point shots when calculating a player's shooting percentage. Combining his 62.5 percent (15-of-24) on two-point shots and 61.5% (8-of-13) on three-point shots gives Thomas an impressive 73.0 eFG percentage.
Do you want to delve deeper? How about we look at his shooting stats and shot chart to see where Thomas is most effective on the court. Bringing up his shooting stats breaks down Thomas' shots by shot distance (either by 5-foot increments or 8-foot increments), by shot zone (restricted area, in the paint, mid-range, above the break 3, corner 3) and by shot type (dunks, layups, jump shot, hook shot, putback, etc.).

And if you're more of a visual person, you can check out his shot charts, which indicate his best shooting areas (green), as well as average (yellow) and poor (red) to provide a look at where Thomas likes to score. You have the option to look at hot-spot zones or basic zones, to include shooting stats for each zone, or even view all of the shots he has taken. And you can save the shot chart to share with friends or post on social media as you become your own NBA D-League analyst.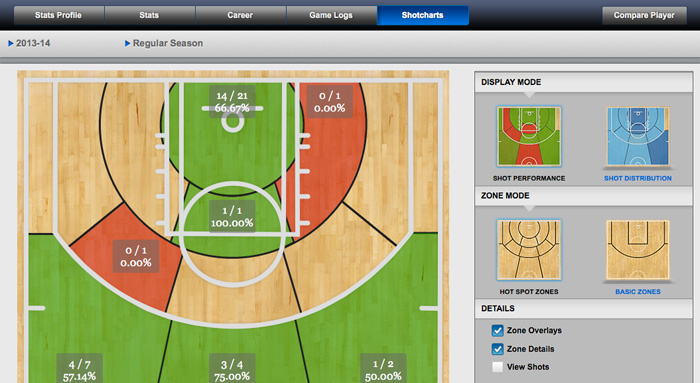 As you can see, with this new site there is a wealth of data now at your disposal to help see the game from entirely new angles. Take a look around and create your own analysis here on NBA.com/DLeague/Stats.